FoxPro Inferno Digital Game Call
FoxPro Inferno Digital Game Call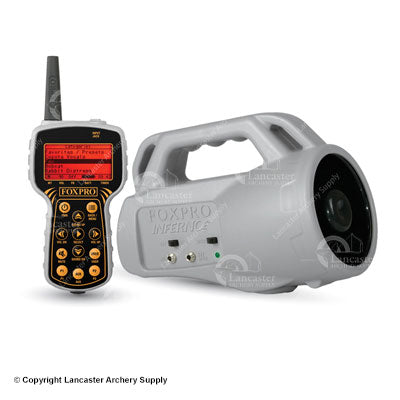 FoxPro Inferno Digital Game Call
DISCONTINUED
Sorry, this product is discontinued and no longer available for purchase.
Description
The FoxPro Inferno is an incredibly compact and powerful electronic caller. It weighs only 1.5 lbs with batteries and offers 75 high-quality FoxPro sounds and an upgraded remote featuring FOXBANG technology. The Inferno is portable and offers extreme volume and sound quality. You can even connect an external speaker to the unit for even more volume. The Inferno's remote is easy to operate and navigate, with two preset buttons, a mute button, volume up and down, and more. All of these features make the Inferno an exceptional value. It's packed with great features and innovations from FoxPro, is backed by a 3-year limited warranty and is proudly made in the USA.
Features:
Inferno remote control with large, easy-to-read screen
Organize your sounds by category
User button with assignable function of your choice
Easy to navigate interface
FOXBANG: With FOXBANG activated, the caller automatically switches to an assignable function (preset 1-5, toggle mute, toggle decoy) after discharging your firearm (great for follow-up shots)
Integrated USB Port Allows you to connect your caller to a home PC for reprogramming
Stores up to 200 sounds in total (comes with 75)
Order direct to custom pick your own custom sound list
External Speaker Jack for connecting an additional speaker to the Inferno for more volume.
Internal Speaker "On/Off" Switch allows you to turn your internal speaker on or off.
Auxiliary jack for linking up with a FOXPRO decoy
Pilot Lamp/Low Battery Indicator glows green while on, and blinks when batteries are getting low.
Tripod Mount is located on the bottom of the unit.
Made in the USA!