Tenpoint Nitro 505 Crossbow Package (EVO-X Elite Black Scope)
Tenpoint Nitro 505 Crossbow Package (EVO-X Elite Black Scope)
Item # 1030580
|
Catalog Page # 551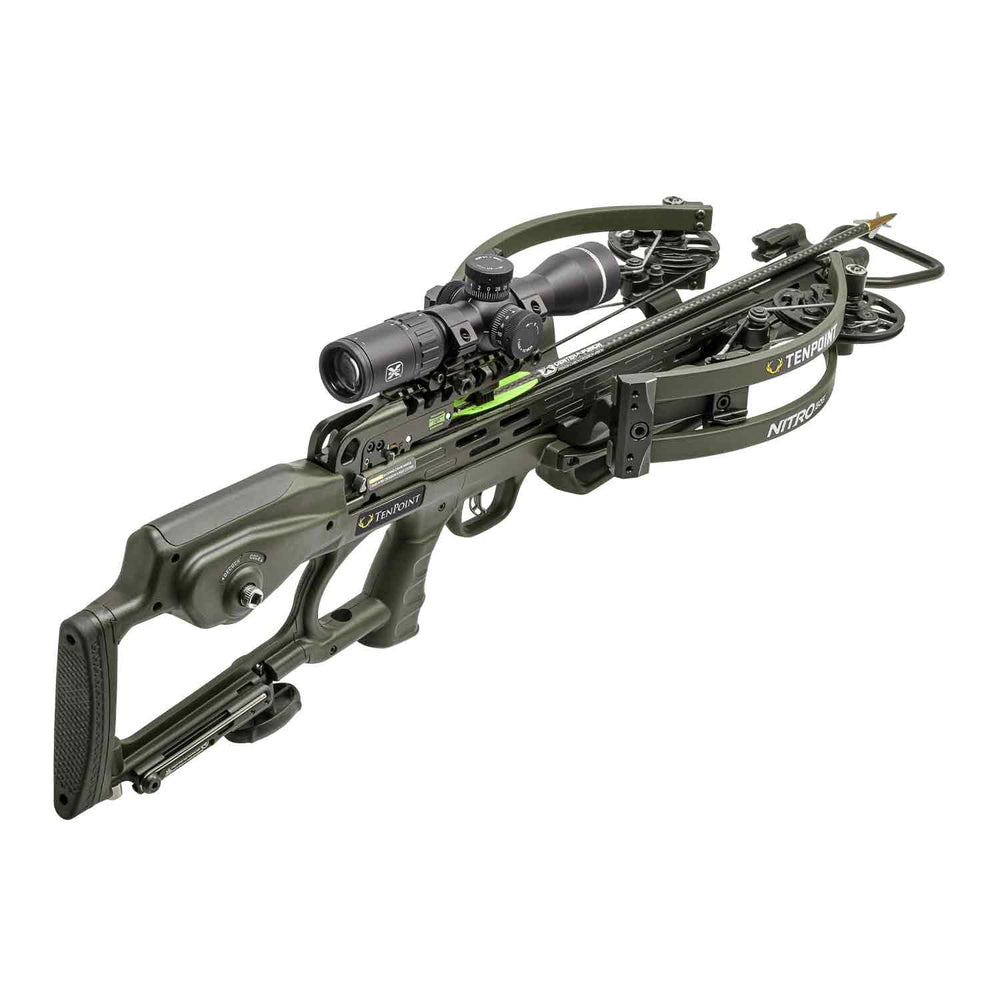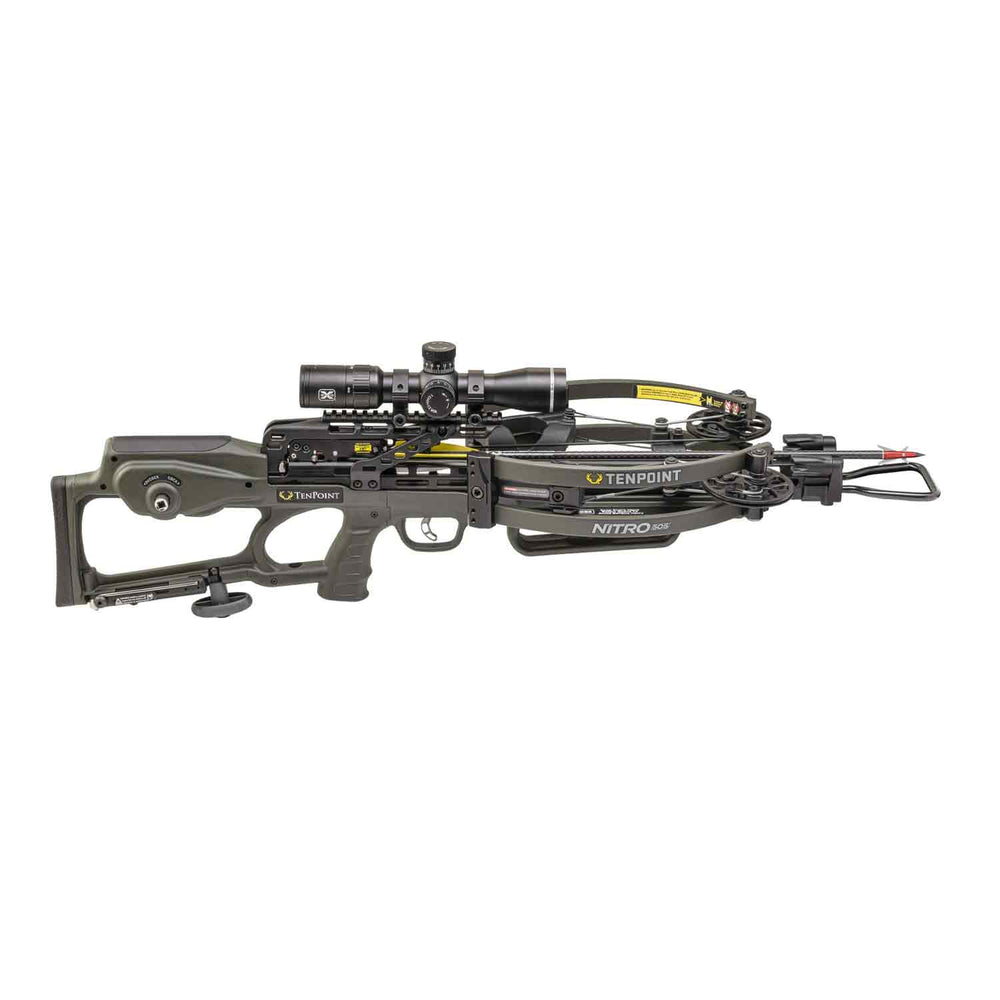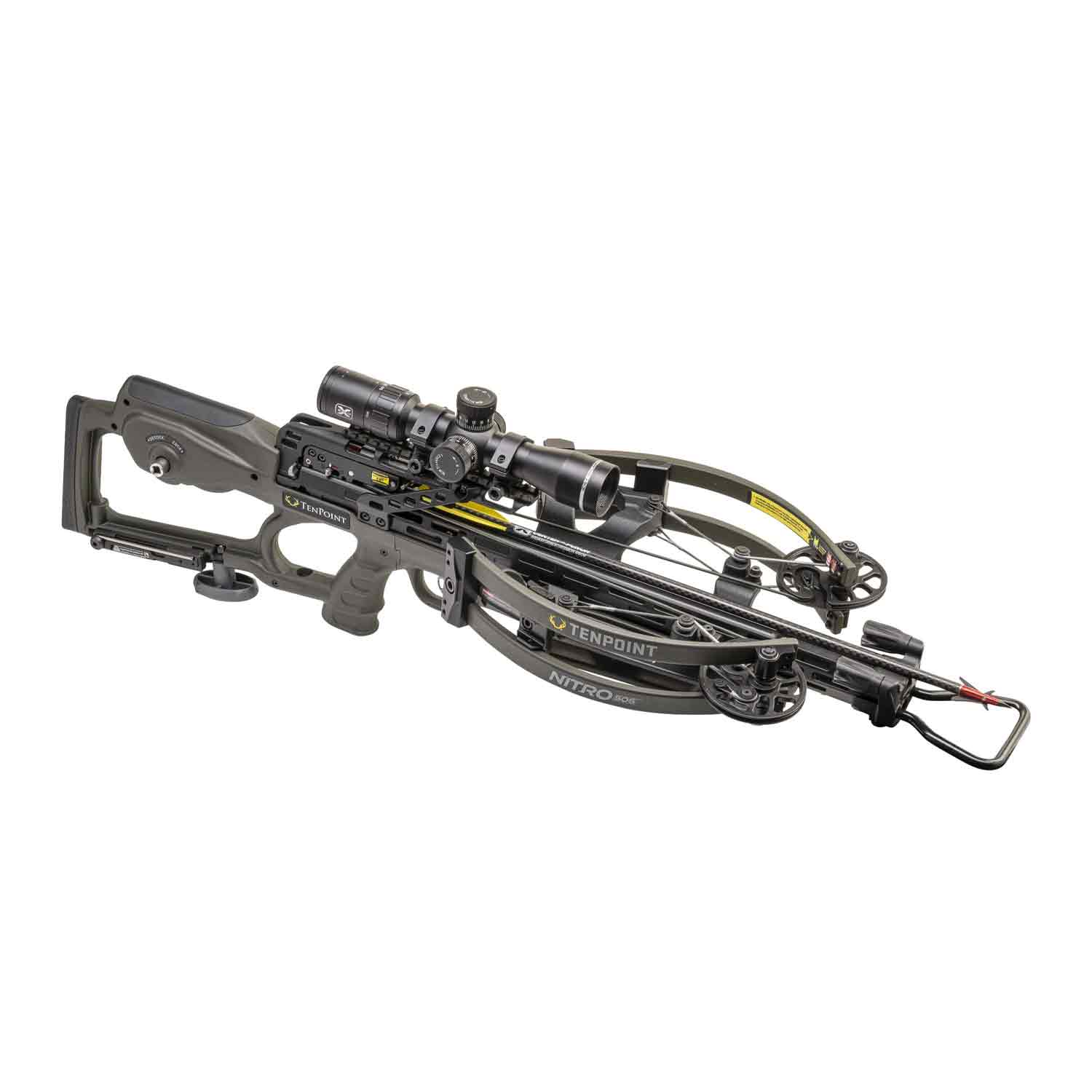 Tenpoint Nitro 505 Crossbow Package (EVO-X Elite Black Scope)
Item # 1030580
|
Catalog Page # 551
OVERSIZE
This product is oversize due to the weight and/or dimensions.
Learn More
PROPOSITION 65
WARNING: cancer and reproductive harm.
Learn More
Description
Built from the ground up by industry-leading engineers, meet the fastest crossbow in the world clocking in at 505 feet per second. Firing over 25,000 test shots, the powerful Nitro 505 delivers 227 foot-pounds of blistering power on every shot and is built to maintain the durability you expect from the leader in high-performance crossbows. 
Measures an ultra-compact 6.5-inches wide, 30.7-inches long (without stirrup), and weighing only 7.9 pounds (without accessories) 
Forget gap shooting and achieve exact aim at any distance with the Garmin XERO X1i range-finding scope, giving you a single aiming point and making it the most accurate long-range crossbow available
Perfectly balanced, patented reverse-draw bow assembly powered by the new RX8-Cam system that rotates an industry-leading 404-degrees 
New cam system features deeper cable grooves and improved cable spacing, allowing for increased strand count on strings and cables for added strength and durability 
Revolutionary Vector-Quad cable technology utilizes four cables instead of the traditional two, eliminating cam lean and generating straight nock travel and same-hold downrange accuracy 
The reverse-draw design features the longest power stroke in the industry at 17-inches long which generates more speed with less draw weight for a smoother, quieter shot and keeps the arrow nock engaged with the string for an extra 4-inches 
Center-mounted riser providers superior balance, making it easier and steadier to hold and eliminates the "nose heavy" feel of traditional crossbows 
Features the S1 2-strage, zero creep trigger with advanced roller-sear system for a crisp 3.5-pound pull 
Trigger is equipped with a DFI (Dry-Fire-Inhibitor) and fitted with a nylon-filament arrow retention brush that improves arrow grip and alignment while reducing noise and vibration 
An integrated string stop system is also included to further decrease noise and vibration 
The new 20-inch MICRO-TRAC fluted aluminum barrel reduces the flight deck surface by half; with minimal string-to-barrel contact, you will have increased accuracy and longer string life (even more than "rail-less" crossbows) 
Features groundbreaking Auto-Break Gear System, allowing for silent cocking and safe, controlled de-cocking 
The new brake pad design offers more robust braking power, eliminating the potential of losing control The silent cocking and safe de-cocking system is highly recommended by dealers and requires just 5 pounds of force 
The ACUslide is the easiest system on the market and requires a fraction of the force you need to cock or de-cock competitors' bows 
While using the ACUslide, you can remove your hand from the handle at any point, with no other action required – and the handle will stop in place 
Features a new Dyneema cocking strap that has been upgraded to handle over 2,000 pounds of force 
 The 7.5-inch XTEND Adjustable Crank Handle reduces cocking effort to 5 pounds and stores securely in the butt-stock 
Color: Dark Green
Package includes:
ACUslide cocking and de-cocking system 
EVO-X Elite Black Scope
6-pack of EVO-X CenterPunch 
Premium Carbon Crossbow Arrows (.001" straightness) 
Integrated String Stop System 
6-arrow Tech Quiver